Browsing articles tagged with " truth"
Despite having some problems with SL lately, there's one thing to bring me back no matter what..
The Arcade is back again, and as usual, I'm going overboard with the gachas. I'll be back to the blog my regularly scheduled posts soon, as my internet is a bit better now. For now, everyone have fun at the event!
With that in mind, here's my trading list: right here!
Shoot me an IM if I'm online (or a notecard if I'm not) if you see something you'd like to trade!
Dress: erratic
Shoes and necklace: [BedlaM]
Tights: L&B
Bracelet: Amorous
Hair: Truth
Eyes: .::PeppermintBlue::.
Skin: Leafy
Poses: Starry Heaven
Props: Standby Inc
I've been a little lazy today, so I wanted to wear something that looked super comfortable. I couldn't even be bothered to put on shoes!
The Chell Dress by [UnderDogs] is the perfectly comfortable, simple summer dress that I was looking for. My favourite thing about this dress is how soft and flowy it looks, especially with the more fitted halter top.
I also love the back of the skirt. It's slightly longer than it is in the front, giving it an interesting asymetrical angle (not to mention the ability to pick things up without necessarily flashing your panties!). You can pick up one of the lovely colours of Chell for L200, or the whole pack for a great discount of L600. All of the colours are definitely worth it!
Dress: [UnderDogs] – Chell Dress – L200
Shoes: [Gos]
Jewelry: Blah.
Hair: Truth
Eyes: .::PeppermintBlue::.
Skin: Leafy
Poses: Starry Heaven
If you couldn't tell by now, I really like warm weather. I was totally happy to get such a cute bikini today because of a little summer fever, but I almost couldn't decide which one to wear!
This is the Shyla Bikini by [UnderDogs], in Melon. This super cute bikini comes in ten different textures, each one wonderful. What I love about mesh bikinis like this one is that I don't have to worry about things like disappearing straps, or jagged lines that come with the clothing layers. This particular suit top has a fun cut, that dares to show just a little bit, but not enough to make it immodest. I like the style of the back of the top, too, which unfortunately I wasn't able to get a picture of today.
The bottoms have a cute cut, too, and are in no way too revealing, but have a good fit. I think my favourite of these bikinis are the striped ones, although there are other equally cute prints to choose from.
Each bikini, ten in total, is L175 on its own, or all ten for L700, which is quite a deal. These suits are definitely worth it, so if you're in the market for a swimsuit this summer, grab yourself a fatpack!
Bikini: [UnderDogs] – Shyla Bikini – L175
Feet: [Gos]
Hair: Truth
Eyes: .::PeppermintBlue::.
Skin: Leafy
Poses: Starry Heaven
I really can't wait for the Pose Fair to open! I've seen Emi get some really great poses that I'm envious of, and I can't wait to get in and try a few myself. The one she invited me to model with her today is really one of the cutest couple poses.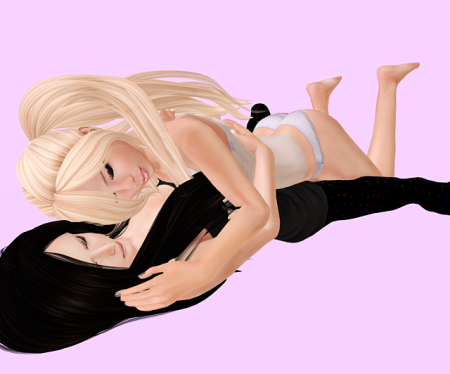 I've never visited Infiniti, the creator of this pose, but I'm definitely curious about their couple poses now! You can see more details on the fair, the pose, and Emi's outfit at her post.
Also, Starry Heaven is looking for bloggers. If you're interested, send Emirun Resident a notecard with your name and blog link!
Ai's ensemble:
Shirt: Kastle Rock Couture
Pants: Pixelated Designs
Hair: TRUTH
Feet: Gos Boutique
Eyes: .::PeppermintBlue::.
Skin: Leafy – Amethyst
Poses: Infiniti