Browsing articles tagged with " she & him"
I'm not dead, I promise! I actually recently got a newer computer that can actually run SL, so I'm really excited about being back. My old computer would only get an average of around 5-8fps at home with nothing around me, down to 1-3 if I was in someone else's sim. It made things really difficult, especially blogging, so I did kind of let it fall behind, and I apologize for that.
I'm here with more She & Him items. I really do love this event, so I'm excited for each new round to start. This time, I've found a great dress from Leri Miles Designs. This cute dress comes in a lot of colours, but I really like this one, which is Peach. My favourite part of this dress has to be the sheer over skirt, which I haven't seen a lot in mesh and am really excited for! The dress underneath is in a simple sheath style, which works wonderfully with the over skirt.
If you've read my blog before, you know that it was through She & Him that I began my love affair with Ariskea. The boots I'm wearing today are from that wonderful store, and come in many fabulous colours with super realistic textures. Regrettably, I haven't bought out the full inventory of this store yet, but I am certainly still planning to!
So, again, be sure to check out this round of She & Him before it's gone!
Dress: Leri Miles Designs (for She & Him)
Shoes: Ariskea (for She & Him)
Necklace: Dead Apples
Hair: TRUTH
Hands: SLink
Fingernails: Starry Heaven (for The Candy Fair)
Eyes: .::PeppermintBlue::.
Skin: Pink Fuel
Poses: Starry Heaven (for The Candy Fair)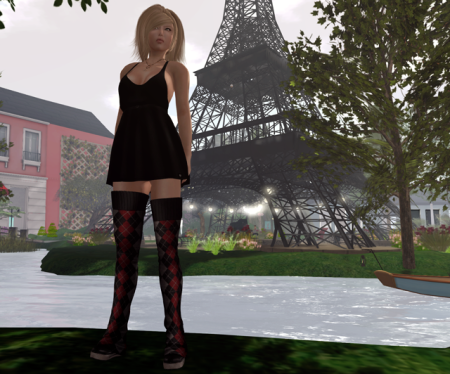 It's a new round of She & Him and I'm excited! I'm bringing you two items from the event in this post today.
My first item is my totally cute little dress, Anny by Chandelle Design. It's a cute, simple design, that I'm definitely going to want to keep wearing, even as it gets colder outside. There is a cute, thin mesh belt detail on this dress, and the way the dress falls around it is really nice and realistic. The texture is also very realistic, and looks good from both up close and further away. This dress comes in six colours, so be sure to stop in and pick one (all?) of them up before the round ends!
The second item is my pose itself. It's from the Jaycee set, by pose+ivity. I liked a lot of these poses, and how unisex they seemed to be. I think a male or female avatar could benefit from them. The're casual enough for a number of different photographs, so do check those out too!
Be sure to stop in for current round before it's gone! A new round of She & Him starts on the 5th of every month.
Dress: Chandelle Design (for She & Him)
Shoes: Ducknipple
Necklace: Olive
Hair: ploom
Hands: SLink
Fingernails: Starry Heaven
Eyes: .::PeppermintBlue::.
Skin: Pink Fuel
Poses: pose+ivity (for She & Him)