Browsing articles tagged with " pink hustler"
I don't actually live anywhere near a beach, but if I did, I'd be there everyday. (Actually, it's probably good that I don't — I'd look weird with a tan!) Something about warm sand squishing between your toes and the waves washing up around your ankles is so comforting.
My shorts today are Laura shorts in warm by .:Ducknipple:. Mesh. Jean shorts are such a staple of my wardrobe in the summer time that I couldn't resist breaking them out a little early this year. These are some cute jeans with a good texture, and I'm apparently continuing the week of cute butt shapes. These shorts are available for only L$125, a good price for a good pair of mesh shorts. They come in four different denim colours.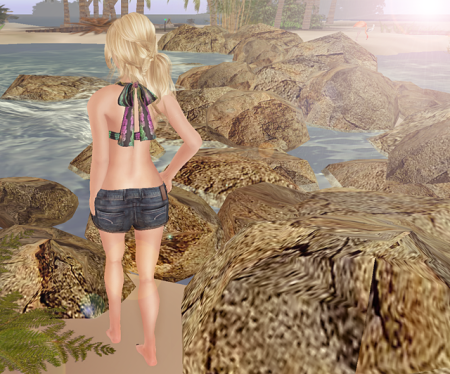 Ai's ensemble:
Shorts: .:Ducknipple:. Mesh – Laura shorts – L125
Top: PINK HUSTLER
Hair: D!va
Feet: [Gos]
Eyes: .::PeppermintBlue::.
Skin: Leafy
Poses: Starry Heaven