Browsing articles tagged with " leafy"
I want to start out by saying that my blog posting may drop off a bit. I'm getting ready to move, so I'm sure I'll be quite busy. I'm going to make sure to keep making posts, though, so I won't be completely inactive!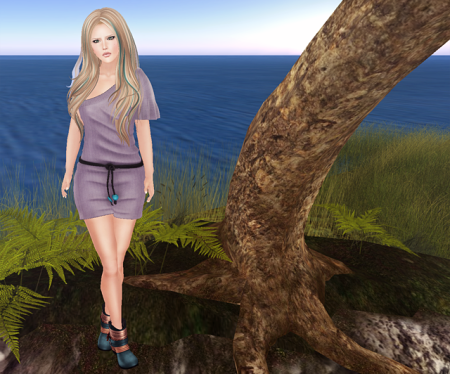 I love, love the dress that I'm wearing today. Piperness Dress by .:Ducknipple:. Mesh is a perfect, airy spring/summer knit. I love the length, the fact that it's off shoulder and sleeveless on one side, and the remaining sleeve is loose and looks flowy. This dress falls beautifully and has such realistic folds and textures. The cord belt is a great 3d touch, and is weighted by some cute chunky beads that change colour with your dress. The multi-colour hud has twelve great colours, in dark and light shades.
My boots, Thena Boots by .:Ducknipple:. Mesh are so cute. They're short, western style boots, with such charming straps and ties for decoration. These also feature a hud, that has fourteen colours to choose from. I love the buckles and straps, and the wonderful textures on every part.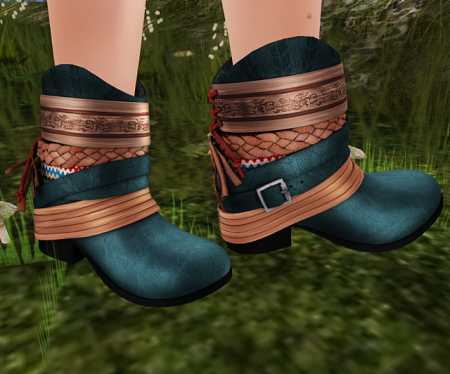 Together, these make a full outfit for under L$400, a great price!
Ai's ensemble:
Outfit: .:Ducknipple:. Mesh – Piperness Dress – L195
Shoes: .:Ducknipple:. Mesh – Thena Boots – L195
Hair: Alice Project
Eyes: .::PeppermintBlue::.
Skin: Leafy
Poses: Starry Heaven
I don't actually live anywhere near a beach, but if I did, I'd be there everyday. (Actually, it's probably good that I don't — I'd look weird with a tan!) Something about warm sand squishing between your toes and the waves washing up around your ankles is so comforting.
My shorts today are Laura shorts in warm by .:Ducknipple:. Mesh. Jean shorts are such a staple of my wardrobe in the summer time that I couldn't resist breaking them out a little early this year. These are some cute jeans with a good texture, and I'm apparently continuing the week of cute butt shapes. These shorts are available for only L$125, a good price for a good pair of mesh shorts. They come in four different denim colours.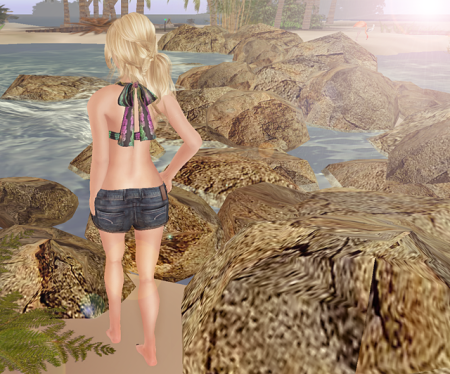 Ai's ensemble:
Shorts: .:Ducknipple:. Mesh – Laura shorts – L125
Top: PINK HUSTLER
Hair: D!va
Feet: [Gos]
Eyes: .::PeppermintBlue::.
Skin: Leafy
Poses: Starry Heaven
I think this blog is slowly becoming a list of Random Things That Ai Really Likes. I really like studs, studs on everything, studs on jackets and tops and shoes and dresses and purses and.. Well, you get the picture.
Fairy Booty Dress by .:Ducknipple:. Mesh has two things I really love: studs, and a lot of booty. The mesh on this dress is so cute. Ai is usually lacking some junk in her trunk, but this dress gives her butt such a cute shape. I really like the way the skirt falls, too, with the realistic looking folds and wonderful texture. I didn't get a good picture of the studs, unfortunately, because my computer is extra slow today. Sorry about that!
My shoes are Lena by .:Ducknipple:. Mesh, and while not made specifically for this dress, they offer a good compliment to it. The criss crossing straps and buckles are what really does it for me in this pair of shoes, which I'm sure I will be rockin' for a long time to come. You never can have too many pairs of cute ankle boots, and this pair is a great, unique addition to your shoe closet!
Both items come with multi-colour huds, so you can match them to anything~
Ai's ensemble:
Outfit: .:Ducknipple:. Mesh – Fairy Booty Dress – L195
Shoes: .:Ducknipple:. Mesh – Lena – L195
Hair: MAGIKA
Eyes: .::PeppermintBlue::.
Skin: Leafy
Poses: Starry Heaven
It's getting so warm out that I honestly almost don't want to do anything. I've got this awful thing about warm weather. I always just want to waste all day driving around. It's a bit expensive to do that anymore, though!
I wanted to wear a long sleeved sweater but I didn't want to fry, so I opted to wear a cropped top. This is SLX Outfit Rolmops, and not only is it the top, it's also the cute jeans and shoes as well. Another outfit with quality textures! I'm sure that with something this breezy, I can also get a lot of wear out of it as it continues to warm up here.
Oh god, how do I ever finish a meme? I managed to do it, somehow!
My Ten SL Firsts:
1. First SL Friend: I don't actually have an SL specific friends. I use it to communicate a lot with my irl friends, so when we're on opposite sides of the country, we can still hang out.
2. First SL Kiss: Probably one of my friends, because..
3. First SLex time/place/partner: I shamelessly try out sex animations/poses with my friends all the time. We are all apparently twelve, because we think this is funny. (It can be really funny.)
4. First SL Partner/Girlfriend/Boyfriend/Wife/Husband: Emi! My first and last.
5. First SL Job: Starry Heaven is my first SL job, actually. I thought about trying to apply to model or something before, but my internet connection isn't always stable (thanks, Comcast), so I ended up not trying.
6. First SL Creation: Again, Starry Heaven has everything I've ever done for SL.
7. First Encounter with a Linden: I've never had one. Although, I probably wouldn't really notice it if I did!
8. First Encounter with a SLebrity: Actually, my first encounter with anyone "known" was when Berry commented on my blog. If I've had any others before that, I probably didn't realize that they were celebrities.
9. First SL Sim you fell in love with: I've sadly never had that yes, this moment when on a sim. I attribute it to my computer being really crappy, so I never have any good detail on landscapes. I've seen a lot I thought were pretty, but none where I just couldn't stand the thought of leaving.
10. First SL Blog Post: Well, that's not hard to go back and find. I think I have maybe two pages!
Wow, I have the most boring answers for these memes ever! I think I need to get a SLife. Thanks for making the memes, Berry!
Ai's ensemble:
Outfit: SLX Outfit – Rolmops – L169
Hair: [^.^Ayashi^.^]
Eyes: .::PeppermintBlue::.
Skin: Leafy
Poses: Starry Heaven