Browsing articles tagged with " kastle rock couture"
Ohhh my god, I love the outfit that I'm wearing today. This is Angel by SLX Outfit, and when this came out, I was all over it. I love this sort of functional, real life casual that is sometimes overlooked by designers in SL. I love to wear things I could never wear in real life on occasion, but on the daily I'd rather put Ai in something I could comfortably wear myself.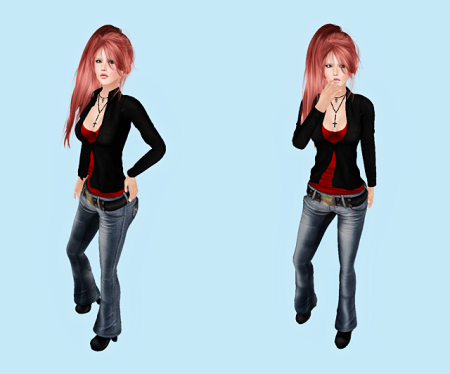 Angel is casual, but not plain. The details in it really make it, like the included (optional) necklace, the (also optional) fitted belt, and the 3d back pockets with zippers. They've even included the shoes, rounding out this complete outfit-in-a-box package. As usual from this brand, the textures are amazing and realistic, and the bends and folds in the mesh make it really come to life.
The top comes in black and white, and in five sizes. The jeans and belt also come in the same five sizes.
The undershirt is not included in this outfit; I simply added it for a little bit of modesty. The outfit looks great — definitely more sexy — without one, so you can wear it either way!
Angel is on limited promo for L169 right now, so if you like this outfit, snatch it up before the promo ends!
Ai's ensemble:
Full outfit and accessories: Angel by SLX Outfit, L169 limited promo!
Undershirt (red): Kastle Rock Couture
Hair: D!va Hair
Eyes: .::PeppermintBlue::.
Skin: Leafy – Amethyst
Poses: Starry Heaven
I really can't wait for the Pose Fair to open! I've seen Emi get some really great poses that I'm envious of, and I can't wait to get in and try a few myself. The one she invited me to model with her today is really one of the cutest couple poses.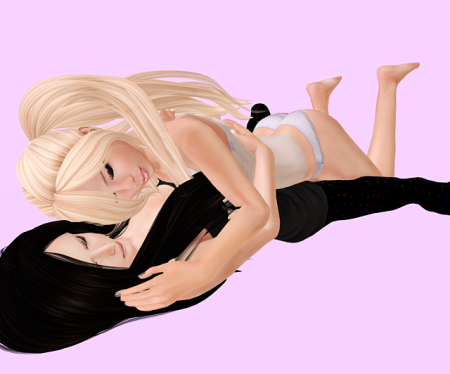 I've never visited Infiniti, the creator of this pose, but I'm definitely curious about their couple poses now! You can see more details on the fair, the pose, and Emi's outfit at her post.
Also, Starry Heaven is looking for bloggers. If you're interested, send Emirun Resident a notecard with your name and blog link!
Ai's ensemble:
Shirt: Kastle Rock Couture
Pants: Pixelated Designs
Hair: TRUTH
Feet: Gos Boutique
Eyes: .::PeppermintBlue::.
Skin: Leafy – Amethyst
Poses: Infiniti