Browsing articles tagged with " heaven's gate neo"
Whew! My internet has been having issues keeping up with Second Life in this new place. I've been trying to do what I can to stay on, but it's not been easy for me. I'm hoping that it evens out, or else there will be another eventful visit from the cable company..
I managed to get a couple of pictures, but I'm not entirely happy with the quality of them. I can't stay connected reliably and long enough to retake them! I hope you'll forgive me.
Today, Tatsurou is wearing [UnderDogs] Robbie shirt. This mesh casual dress shirt has quite a lovely texture, and comes in multiple colours. I love the gentle folds of the fabric, and the way the first few buttons are open, making it wearable in less dressy situations.
Tatsurou is in black, but it also comes in several other colours: blue, brown, gold, grey, green, pink, purple, red, and white. Each colour will run you L175, or you can get the whole pack of them for a discount, totaling L600.
After the day I've had, I'm ready to take a break!
Shirt: [UnderDogs] – Robbie shirt – L175
Pants: 20.FIVE
Shoes: ::GABRIEL::
Glasses: *Stars*Fashion*
Necklace: Fall From Grace
Hair: Sadistic Hacker
Eyes: MADesigns Eyes
Skin: Heaven's Gate Neo
Poses: Starry Heaven
I'm still doing a lot of tedious running around in first life and I don't see that stopping very soon. Nevertheless, I said I would find time to blog, and here I am!
Today, Tatsurou is wearing Henk by .:Ducknipple:. Mesh. A proper knit cardigan over a button down shirt, with an optional loose tie, Henk makes him look like he's just gotten home from work and is getting ready to wind down for the night. I love everything about this look! The textures are particularly impressive, and it feels like special attention was paid to the folds and bends in the fabric.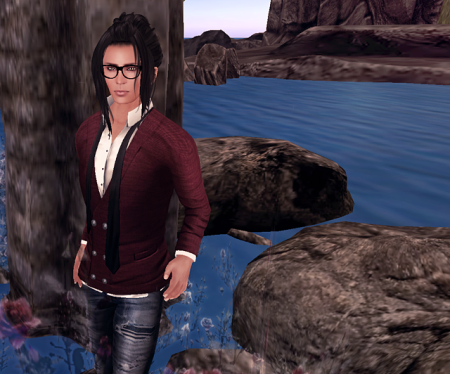 Henk comes with a great hud. It's ridiculously customizable: the colour of the cardigan and the tie can be done separately from twelve different swatches each. The undershirt can be changed to anything with a colour picker from the same hud as well.
It's paired with 20.FIVE's male jeans, which make the look a little more casual. I think it works this way, or could also work with some dressier slacks instead. This is a really versatile look and I think it could be useful in a lot of situations, so be sure to pick this one up, guys.
Tatsurou's ensemble:
Outfit: .:Ducknipple:. Mesh – Henk – L195
Shoes: ::GABRIEL::
Glasses: *Stars*Fashion*
Hair: Sadistic Hacker
Eyes: MADesigns Eyes
Skin: Heaven's Gate Neo
Poses: Starry Heaven
Now for my planned blog post for today. I cheated a little, because I had these items on Ai, but really wanted to use Tatsurou, so I copied his shape over to my main account. It's not really Tatsurou, but I'm going to pretend for the day.
Today, I've got Tatsurou in this beautiful .:Ducknipple:. Mesh Buttoned jacket. I love this style on guys, so I was super excited to be able to put my favourite male avatar in it. This jacket comes with a hud to allow you to change to multiple colours, but as usual, I end up in monochrome. Available in five sizes, the mesh is cut wonderfully for larger or smaller male avatars. I have a hard time fitting my admittedly very slim male avatars into some mesh, but had no problems with this. The texture is clean and sharp. The undershirt and buttons are such nice touches! I wish I had this on Tatsurou's actual account, because I would never take him out of it!
The jeans are 20.FIVE Male jeans, non-mesh and perfect to go with your mesh tops to minimize clashing. They actually look like they could be mesh, despite being clothing layers and prim cuffs, so I imagine my male avatars will be wearing these quite a lot!
Well, I couldn't make Tatsurou 2.0 look just like the original, but I think he looks okay! Now I can use him if I desperately need to model some items on Ai's account.
Tatsurou's ensemble:
Top: .:Ducknipple:. Mesh – Buttoned jacket – L195
Pants: 20.FIVE Male jeans
Shoes: ::GABRIEL::
Hair: ( r e d ) M i n t
Eyes: MADesigns Eyes
Skin: Heaven's Gate Neo
Poses: Starry Heaven (unreleased, sorry!)
Emi recently was accepted as a blogger for the Pose Fair this year, which I am insanely happy for her over, yay Emi! As a result, I've gotten to be the extra body in a couple pose or two so she can accurately preview them. The one I want to talk about tonight is this adorable prop pose from elephante poses.
It's called Together We Are, and will be available at the Pose Fair for 149L. It's a cute pose, so if you're in the market, be sure to swing by and pick this one up on the 29th!
By the way, the raw of this shot is courtesy of Emi. Check out her post if you want to see what it would look like in the hands of an actual Photoshop user! Thanks, Emi!
Tatsurou's ensemble:
Jacket: A&C Design
Top: >>>Poison<<< Pants: Bubblez Design Shoes: ::GABRIEL:: Jewelry: Fall From Grace Hair: Sadistic Hacker Eyes: Bird Next Door Skin: Heaven's Gate Neo Poses: elephante poses Credits for Emi's outfit can be found in her post.