Browsing articles tagged with " gos boutique"
I really can't wait for the Pose Fair to open! I've seen Emi get some really great poses that I'm envious of, and I can't wait to get in and try a few myself. The one she invited me to model with her today is really one of the cutest couple poses.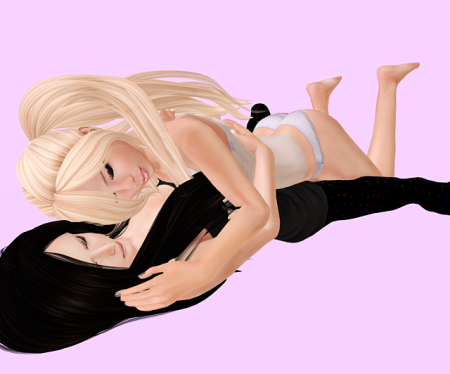 I've never visited Infiniti, the creator of this pose, but I'm definitely curious about their couple poses now! You can see more details on the fair, the pose, and Emi's outfit at her post.
Also, Starry Heaven is looking for bloggers. If you're interested, send Emirun Resident a notecard with your name and blog link!
Ai's ensemble:
Shirt: Kastle Rock Couture
Pants: Pixelated Designs
Hair: TRUTH
Feet: Gos Boutique
Eyes: .::PeppermintBlue::.
Skin: Leafy – Amethyst
Poses: Infiniti
I need to apologize for my lengthy absence from the internet. I had some real life changes that directly influenced my computer time, and for a while, SL had to fall by the wayside for me. Things are a little more stable now, so I hope that they continue to get better so that I can stay here for good!
It seems my return happened at a good time. The Arcade is in full swing for the month with some of the cutest things I think I've ever seen. My favourite thing by far is the Auxiliary Wild Rumpus Rompers. Emi and I fell into the trap of the cute and spent waaay too much money completing our outfits, but I have absolutely no regrets!
Photo by the always wonderful Emi! Thank you!
There are several different combinations you can make with a base romper by simply adding a tail and hood, which is an excellent idea given that the items come as separates from a gacha. Though collecting items this way can admittedly be a little frustrating, I would recommend anyone who likes adorable to pick up these rompers while you still can.
Ai's ensemble:
Outfit: Auxiliary – Wild Rumpus Romper Goat in black (tail, romper, hood, 40L)
Hair: COLORS
Feet: Gos Boutique
Eyes: [UMEBOSHI]
Skin: Leafy – Amethyst
Pose: Starry Heaven
Emi's ensemble:
Outfit: Auxiliary – Wild Rumpus Romper Goat in white (tail, romper, hood, 40L)
Hair: COLORS
Feet: Gos Boutique
Hands: Slink
Makeup: LOGO
Eyes: [UMEBOSHI]
Skin: Pink Fuel (Kumi)
Pose: Starry Heaven