Browsing articles tagged with " diva"
I don't actually live anywhere near a beach, but if I did, I'd be there everyday. (Actually, it's probably good that I don't — I'd look weird with a tan!) Something about warm sand squishing between your toes and the waves washing up around your ankles is so comforting.
My shorts today are Laura shorts in warm by .:Ducknipple:. Mesh. Jean shorts are such a staple of my wardrobe in the summer time that I couldn't resist breaking them out a little early this year. These are some cute jeans with a good texture, and I'm apparently continuing the week of cute butt shapes. These shorts are available for only L$125, a good price for a good pair of mesh shorts. They come in four different denim colours.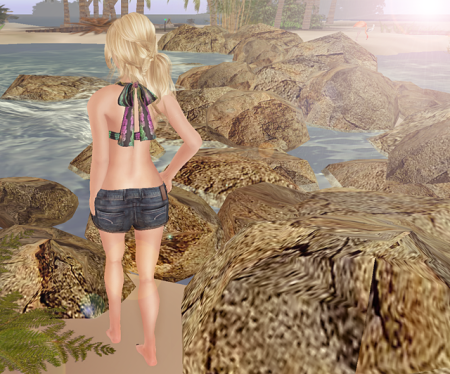 Ai's ensemble:
Shorts: .:Ducknipple:. Mesh – Laura shorts – L125
Top: PINK HUSTLER
Hair: D!va
Feet: [Gos]
Eyes: .::PeppermintBlue::.
Skin: Leafy
Poses: Starry Heaven
First off, I need to apologize for my unplanned mini-hiatus. A lot of things sort of coalesced in my life at once and etc etc, real life stuff that doesn't really belong on here.
On to what this post is actually about: my totally cute outfit. This is Starred, by SLX Outfit. I was in the mood for a certain type of outfit today, and this just hit all of the right notes. The texture of the base dress is great, but my favourite is the zippered corset over the top of it. It looks artfully repurposed, and I feel like I should be able to reach out and touch it. The buttons on the dress are a great touch, too.
I love the boots with the 3d laces on them. I don't think I will ever get tired of seeing that. I didn't get a picture of it, but they each have a muted blue/purple star on the outside that is so cute. They include a resizer to get just the right fit.
The outfit also includes a set of matching studded buckle bracelets, and a beaded necklace with a cute little charm hanging from it. Starred is on promo for an affordable L169 right now, so be sure to grab it up before it changes to full price!
Ai's ensemble:
Outfit: SLX Outfit – Starred – L169 (promo!)
Hair: D!va
Eyes: .::PeppermintBlue::.
Skin: Leafy – Amethyst
Poses: E.inK, [Expressive Poses]