Browsing articles tagged with " athor"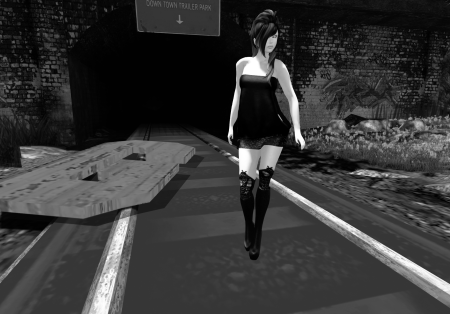 I'm here today with a couple of items from this month's round of She & Him. My dress is from *HolliPocket*, and is available currently at the event. This cute little mini dress is pretty daring, with a slit up either side from nearly the top to bottom. I love the way it drapes, from every side, front, and back as well. The texture of it is lovely as well; the leather of the one I'm wearing looks very realistic, like you could reach out and touch it. Even though this dress is relatively simple, the elements of it make it a very interesting piece that I really like!
My pose is from the Keira set by Purple Poses, and is also available at this round of She & Him. This is a cute pose set and I wish I could have used more of them, but unfortunately, running shadows is pretty hard on all of the computers in the house.
Be sure to check out the current round before it's gone! A new round of She & Him starts on the 5th of every month.
Dress: *HolliPocket* (for She & Him)
Shoes: Athor
Stockings: American Bazaar
Hair: ploom
Hands: SLink
Fingernails: Starry Heaven
Eyes: .::PeppermintBlue::.
Skin: Pink Fuel
Poses: Purple Poses (for She & Him)