Thanks to Emi for the beautiful picture! Her post is currently up in her blog.
I'm still having some issues with pictures in SL. While I'm considering trying a different viewer, I'm trying to stick to mostly simple pictures. Sorry about that!
Today, I'm in [UnderDogs] mesh Claire dress, which was just released recently. This is one of sixteen colours, High Class. I love the texture of all of the dresses, but the black lacing over the grey of this one really won me over.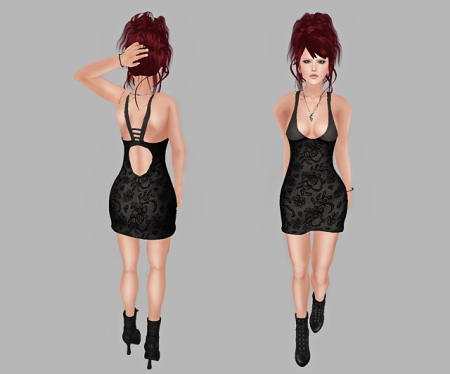 The back of this dress is cut out, and has a really cute design for the straps. It could be worn several ways, more casually or classier, depending on the accessories and other layers you pair with it.
You can pick up one colour of Claire for L175, or the whole fatpack for quite a discount of L1000. It's a really cute dress, so consider picking one (or all of them) up!
Dress: [UnderDogs] – Claire Dress – L175
Shoes: *G Field*
Necklace: ::GABRIEL::
Bracelet: DIRTYLAND
Hair: W&Y
Eyes: .::PeppermintBlue::.
Skin: Leafy
Poses: Starry Heaven