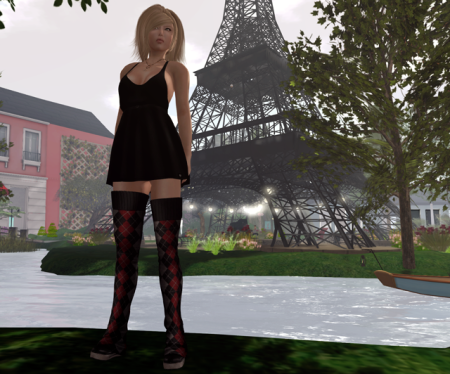 It's a new round of She & Him and I'm excited! I'm bringing you two items from the event in this post today.
My first item is my totally cute little dress, Anny by Chandelle Design. It's a cute, simple design, that I'm definitely going to want to keep wearing, even as it gets colder outside. There is a cute, thin mesh belt detail on this dress, and the way the dress falls around it is really nice and realistic. The texture is also very realistic, and looks good from both up close and further away. This dress comes in six colours, so be sure to stop in and pick one (all?) of them up before the round ends!
The second item is my pose itself. It's from the Jaycee set, by pose+ivity. I liked a lot of these poses, and how unisex they seemed to be. I think a male or female avatar could benefit from them. The're casual enough for a number of different photographs, so do check those out too!
Be sure to stop in for current round before it's gone! A new round of She & Him starts on the 5th of every month.
Dress: Chandelle Design (for She & Him)
Shoes: Ducknipple
Necklace: Olive
Hair: ploom
Hands: SLink
Fingernails: Starry Heaven
Eyes: .::PeppermintBlue::.
Skin: Pink Fuel
Poses: pose+ivity (for She & Him)