I'm still doing a lot of tedious running around in first life and I don't see that stopping very soon. Nevertheless, I said I would find time to blog, and here I am!
Today, Tatsurou is wearing Henk by .:Ducknipple:. Mesh. A proper knit cardigan over a button down shirt, with an optional loose tie, Henk makes him look like he's just gotten home from work and is getting ready to wind down for the night. I love everything about this look! The textures are particularly impressive, and it feels like special attention was paid to the folds and bends in the fabric.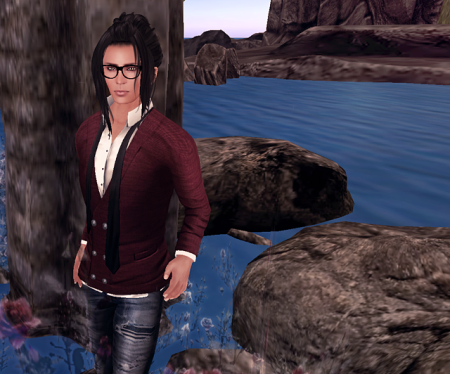 Henk comes with a great hud. It's ridiculously customizable: the colour of the cardigan and the tie can be done separately from twelve different swatches each. The undershirt can be changed to anything with a colour picker from the same hud as well.
It's paired with 20.FIVE's male jeans, which make the look a little more casual. I think it works this way, or could also work with some dressier slacks instead. This is a really versatile look and I think it could be useful in a lot of situations, so be sure to pick this one up, guys.
Tatsurou's ensemble:
Outfit: .:Ducknipple:. Mesh – Henk – L195
Shoes: ::GABRIEL::
Glasses: *Stars*Fashion*
Hair: Sadistic Hacker
Eyes: MADesigns Eyes
Skin: Heaven's Gate Neo
Poses: Starry Heaven