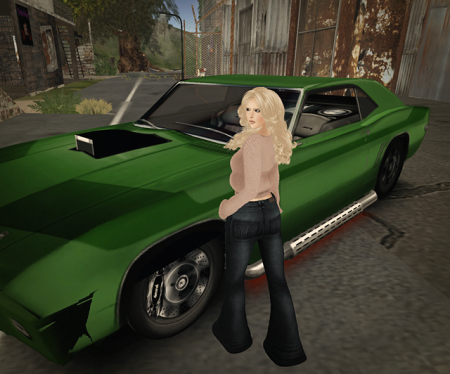 Something all of no one (except Emi, hello!) knows about me is that I love vintage stuff. I like vintage, classic, and old, all the way from the Tudor period to the occasionally questionable fashion of the 80s. It's no surprise to me that I just loved this outfit as soon as I put it on.
Vintage by .:Ducknipple:. Mesh is a fairly simple sweater and pants outfit. I love the bellbottoms, I've been waiting for a great pair of them! The texture on the baggy sweater is great. It comes with a hud featuring multiple colours, dark and light, and for once, I'm not wearing black. If you like vintage, or just cute-casual, be sure to grab this adorable outfit!
I don't think I want to change out of this outfit for quite a while, haha.
Outfit: .:Ducknipple:. Mesh – Vintage – L195
Hair: CiC
Feet: [Gos]
Eyes: .::PeppermintBlue::.
Skin: Leafy – Amethyst
Poses: Starry Heaven