Browsing articles by " Ai"
Now for my planned blog post for today. I cheated a little, because I had these items on Ai, but really wanted to use Tatsurou, so I copied his shape over to my main account. It's not really Tatsurou, but I'm going to pretend for the day.
Today, I've got Tatsurou in this beautiful .:Ducknipple:. Mesh Buttoned jacket. I love this style on guys, so I was super excited to be able to put my favourite male avatar in it. This jacket comes with a hud to allow you to change to multiple colours, but as usual, I end up in monochrome. Available in five sizes, the mesh is cut wonderfully for larger or smaller male avatars. I have a hard time fitting my admittedly very slim male avatars into some mesh, but had no problems with this. The texture is clean and sharp. The undershirt and buttons are such nice touches! I wish I had this on Tatsurou's actual account, because I would never take him out of it!
The jeans are 20.FIVE Male jeans, non-mesh and perfect to go with your mesh tops to minimize clashing. They actually look like they could be mesh, despite being clothing layers and prim cuffs, so I imagine my male avatars will be wearing these quite a lot!
Well, I couldn't make Tatsurou 2.0 look just like the original, but I think he looks okay! Now I can use him if I desperately need to model some items on Ai's account.
Tatsurou's ensemble:
Top: .:Ducknipple:. Mesh – Buttoned jacket – L195
Pants: 20.FIVE Male jeans
Shoes: ::GABRIEL::
Hair: ( r e d ) M i n t
Eyes: MADesigns Eyes
Skin: Heaven's Gate Neo
Poses: Starry Heaven (unreleased, sorry!)
I really can't wait for the Pose Fair to open! I've seen Emi get some really great poses that I'm envious of, and I can't wait to get in and try a few myself. The one she invited me to model with her today is really one of the cutest couple poses.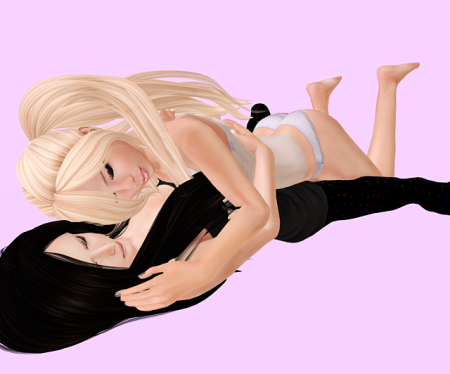 I've never visited Infiniti, the creator of this pose, but I'm definitely curious about their couple poses now! You can see more details on the fair, the pose, and Emi's outfit at her post.
Also, Starry Heaven is looking for bloggers. If you're interested, send Emirun Resident a notecard with your name and blog link!
Ai's ensemble:
Shirt: Kastle Rock Couture
Pants: Pixelated Designs
Hair: TRUTH
Feet: Gos Boutique
Eyes: .::PeppermintBlue::.
Skin: Leafy – Amethyst
Poses: Infiniti
I am super excited today! As you might notice, I suddenly have a new page at the top — Sponsors! Check out those links to see some wonderful clothes at great prices!
My outfit today is the result of my over excitement, and I am not at all ashamed. I don't normally do this, but I even had to go out and buy things to go with the outfit. I'm usually quite shy about spending my lindens.
My outfit is the Shredded Dress from .:Ducknipple:. Mesh. This dress includes a multi-coloured hud, but as my inventory is full of the monochrome, I had to go with classic black. I love dresses with cut outs in the shoulders, and this dress takes that love a step further with circles decreasing in size all down the arms. There are cut outs on the left hip/thigh area, and down the back as well. I really love the effect the cut outs create in the mesh; everything looks so realistic and three dimensional, which I am so crazy about in mesh. The texture is beautifully done, and it's cut so nicely.. I can't say enough about this dress, ugh, I love it too much. I expect this to be a staple in my wardrobe from now on!
If possible, I'm even more excited about the Socks with Shoes, also from .:Ducknipple:. Mesh. As soon as these came out, I wanted them! They are not only perfectly my style, but they have some of the features I've been missing in mesh socks here in SL. My favourite part is that they're slightly uneven; that and the way they fall make them so realistic. They have a hud with different colours and patterns, so they match any outfit. (I'm wearing the patterned pair, but there's also a plain set, too.) The shoes, by the way, are optional. Included in the pack is a set without shoes or feet, so you can use your favourite shoes with them.
I had to go out and buy this Exile hairstyle after Emi was talking about it, and wow. I really love it! I wish they had an additional indecisive pack with different colour options, but since they don't, I went with dark blondes.
I have more things to blog in the coming days (hours?), so keep a look out for my spam!
Ai's ensemble:
Dress: .:Ducknipple:. Mesh – Shredded Dress w HUD – L195
Shoes/socks: .:Ducknipple:. Mesh – Socks & Shoes: Pat w HUD – L195
Jewelry: Maxi Gossamer
Hair: Exile
Eyes: .::PeppermintBlue::.
Skin: Leafy – Amethyst
Poses: Starry Heaven
I got a notice at some point (I often don't notice those, which is funny) about a store I'd never heard of called Necrotic. They are closing their in world store and merging with another brand, so until April, their inventory is %50 off. They don't have a huge selection, but I managed to find a few things that I really liked.
This mesh three quarter sleeve length top has a simply wonderful texture. I was excited to find a Jack Daniels pattern, since I really love it, and it comes in several forms, including ripped tops, shirt dresses, etc. They have a lot of great patterns, and really everything is textured so beautifully that it was hard for me to choose what I wanted. At half off, this top comes out to only 62L, which is a pretty good deal. Stop in and look around, and be sure to pick up anything you fancy before the first!
Ai's ensemble:
Top: Necrotic
Jeans: ::MANGO::
Hair: LaViere
Eyes: .::PeppermintBlue::.
Wings: Auxiliary
Skin: Leafy – Amethyst
Poses: Starry Heaven