Browsing articles by " Ai"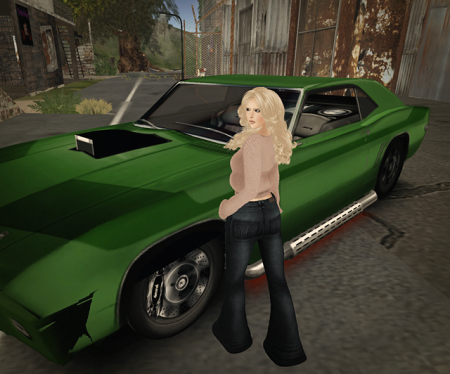 Something all of no one (except Emi, hello!) knows about me is that I love vintage stuff. I like vintage, classic, and old, all the way from the Tudor period to the occasionally questionable fashion of the 80s. It's no surprise to me that I just loved this outfit as soon as I put it on.
Vintage by .:Ducknipple:. Mesh is a fairly simple sweater and pants outfit. I love the bellbottoms, I've been waiting for a great pair of them! The texture on the baggy sweater is great. It comes with a hud featuring multiple colours, dark and light, and for once, I'm not wearing black. If you like vintage, or just cute-casual, be sure to grab this adorable outfit!
I don't think I want to change out of this outfit for quite a while, haha.
Outfit: .:Ducknipple:. Mesh – Vintage – L195
Hair: CiC
Feet: [Gos]
Eyes: .::PeppermintBlue::.
Skin: Leafy – Amethyst
Poses: Starry Heaven
First off, I need to apologize for my unplanned mini-hiatus. A lot of things sort of coalesced in my life at once and etc etc, real life stuff that doesn't really belong on here.
On to what this post is actually about: my totally cute outfit. This is Starred, by SLX Outfit. I was in the mood for a certain type of outfit today, and this just hit all of the right notes. The texture of the base dress is great, but my favourite is the zippered corset over the top of it. It looks artfully repurposed, and I feel like I should be able to reach out and touch it. The buttons on the dress are a great touch, too.
I love the boots with the 3d laces on them. I don't think I will ever get tired of seeing that. I didn't get a picture of it, but they each have a muted blue/purple star on the outside that is so cute. They include a resizer to get just the right fit.
The outfit also includes a set of matching studded buckle bracelets, and a beaded necklace with a cute little charm hanging from it. Starred is on promo for an affordable L169 right now, so be sure to grab it up before it changes to full price!
Ai's ensemble:
Outfit: SLX Outfit – Starred – L169 (promo!)
Hair: D!va
Eyes: .::PeppermintBlue::.
Skin: Leafy – Amethyst
Poses: E.inK, [Expressive Poses]
Another blog post? I think I have a bit of a problem. I just start taking pictures and suddenly I've written half of a blog post mentally. This is Emi's fault!
After a day of hanging out in my cute casual outfit, I thought it would be nice to show off something I could wear out. The star of this look is my .:Ducknipple:. Mesh Zipper Dress. This two tone dress comes with a colour hud, and the red area can be changed to a variety of different colours to compliment the black. It's textured beautifully, and I like the off-shoulder sleeves quite a lot. An interesting feature of this dress, the zippers on the sleeves, are three dimensional and really give it some pop. The little details make this a dress I'd pull out of my closet often.
The shoes I've chosen for this look are the Zaar boots by .:Ducknipple:. Mesh. Mesh thigh boots that look and fit nice are super hard to come by, so these boots are a godsend. I absolutely love the lacing details and the zippers up the inside! They also come with a hud to change the colour, with a variety of darker and lighter colours.
Maybe I can actually step away from blogging for a minute now? I'm not sure! Sorry for spamming everyone!
Ai's ensemble:
Dress: .:Ducknipple:. Mesh – Zipper Dress – L195
Shoes: .:Ducknipple:. Mesh – Zaar boots – L195
Makeup: [mock], .:Glamorize:.
Nails: Sen
Hair: Alice Project
Eyes: .::PeppermintBlue::.
Skin: Leafy – Amethyst
Poses: Starry Heaven
Ohhh my god, I love the outfit that I'm wearing today. This is Angel by SLX Outfit, and when this came out, I was all over it. I love this sort of functional, real life casual that is sometimes overlooked by designers in SL. I love to wear things I could never wear in real life on occasion, but on the daily I'd rather put Ai in something I could comfortably wear myself.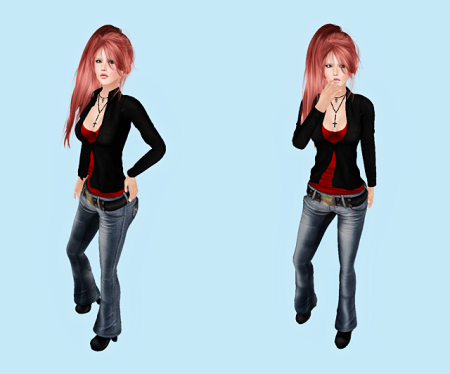 Angel is casual, but not plain. The details in it really make it, like the included (optional) necklace, the (also optional) fitted belt, and the 3d back pockets with zippers. They've even included the shoes, rounding out this complete outfit-in-a-box package. As usual from this brand, the textures are amazing and realistic, and the bends and folds in the mesh make it really come to life.
The top comes in black and white, and in five sizes. The jeans and belt also come in the same five sizes.
The undershirt is not included in this outfit; I simply added it for a little bit of modesty. The outfit looks great — definitely more sexy — without one, so you can wear it either way!
Angel is on limited promo for L169 right now, so if you like this outfit, snatch it up before the promo ends!
Ai's ensemble:
Full outfit and accessories: Angel by SLX Outfit, L169 limited promo!
Undershirt (red): Kastle Rock Couture
Hair: D!va Hair
Eyes: .::PeppermintBlue::.
Skin: Leafy – Amethyst
Poses: Starry Heaven