Browsing articles by " Ai"
I'm finally settled in my new home, and I'm trying to get back some sense of normalcy. It's hard!
Today I felt like was a day for a cute dress. Trenn Dress by .:Ducknipple:. Mesh was perfect. I love the tie so much. It's my favourite detail, by far. I also like the buckles on the straps, the studs down the front, and the square cut out window in the back. The texture is leathery, and comes with a multi-colour hud so you can match anything.
The boots are also .:Ducknipple Mesh, Greet boots. These are great slouchy leather boots, with two buckles on the outside. The straps lead to the zipper on the inner side, which is a great touch. These also come with a multiple colour hud, but I decided to keep them in classic black.
Whew, I'm still tired! Hopefully I'll be back in the swing of things soon.
Outfit: .:Ducknipple:. Mesh – Trenn Dress – L195
Shoes: .:Ducknipple:. Mesh – Greet Boots – L195
Hair: Eaters Coma
Hair accessory: : ) BCC
Bracelet: :.::HS::.:
Eyes: .::PeppermintBlue::.
Skin: Leafy
Poses: Starry Heaven
I'm still doing a lot of tedious running around in first life and I don't see that stopping very soon. Nevertheless, I said I would find time to blog, and here I am!
Today, Tatsurou is wearing Henk by .:Ducknipple:. Mesh. A proper knit cardigan over a button down shirt, with an optional loose tie, Henk makes him look like he's just gotten home from work and is getting ready to wind down for the night. I love everything about this look! The textures are particularly impressive, and it feels like special attention was paid to the folds and bends in the fabric.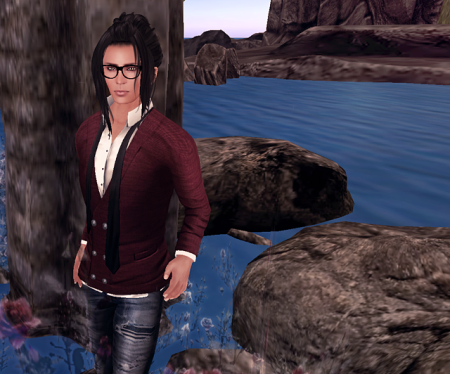 Henk comes with a great hud. It's ridiculously customizable: the colour of the cardigan and the tie can be done separately from twelve different swatches each. The undershirt can be changed to anything with a colour picker from the same hud as well.
It's paired with 20.FIVE's male jeans, which make the look a little more casual. I think it works this way, or could also work with some dressier slacks instead. This is a really versatile look and I think it could be useful in a lot of situations, so be sure to pick this one up, guys.
Tatsurou's ensemble:
Outfit: .:Ducknipple:. Mesh – Henk – L195
Shoes: ::GABRIEL::
Glasses: *Stars*Fashion*
Hair: Sadistic Hacker
Eyes: MADesigns Eyes
Skin: Heaven's Gate Neo
Poses: Starry Heaven
I looked forward to doing this cute meme ever since I saw it in Emi's blog, but when it came time to do it.. I just ran out of ideas! I had so many, too. I might revisit it sometime, but for now, here's what I did.
Idol's Name
Hyde.
Are they in a Band? If so what is it's name?
L'Arc~en~Ciel.
Why did you choose this person?
I love Hyde so much. He's been an inspiration to me for many years. He has this voice that simply grabbed on to something inside of me and did not let go. His writing is so beautiful. Personality wise, he is flawed, hurt, damaged, and still finds it in himself to continue on and inspire others, which I really admire. I just have a lot of feelings for Hyde, okay?!
Link to one of the songs/music videos
Oh my, where do I start?! I'll go with Ready Steady Go live at MSG. I chose this song because most people who don't really know Japanese music may even know this song as a theme from Fullmetal Alchemist. As for why I chose the live.. Well, I was there. No other reason for it.
Ai's ensemble:
Pants: Sweet Temptations
Hair: COLORS
Tattoo: SHOP K
Eyes: .::PeppermintBlue::.
Skin: Leafy
Poses: Starry Heaven
I want to start out by saying that my blog posting may drop off a bit. I'm getting ready to move, so I'm sure I'll be quite busy. I'm going to make sure to keep making posts, though, so I won't be completely inactive!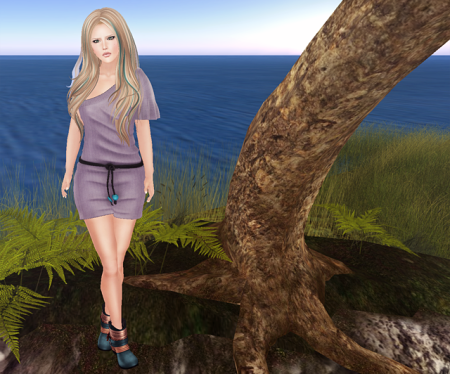 I love, love the dress that I'm wearing today. Piperness Dress by .:Ducknipple:. Mesh is a perfect, airy spring/summer knit. I love the length, the fact that it's off shoulder and sleeveless on one side, and the remaining sleeve is loose and looks flowy. This dress falls beautifully and has such realistic folds and textures. The cord belt is a great 3d touch, and is weighted by some cute chunky beads that change colour with your dress. The multi-colour hud has twelve great colours, in dark and light shades.
My boots, Thena Boots by .:Ducknipple:. Mesh are so cute. They're short, western style boots, with such charming straps and ties for decoration. These also feature a hud, that has fourteen colours to choose from. I love the buckles and straps, and the wonderful textures on every part.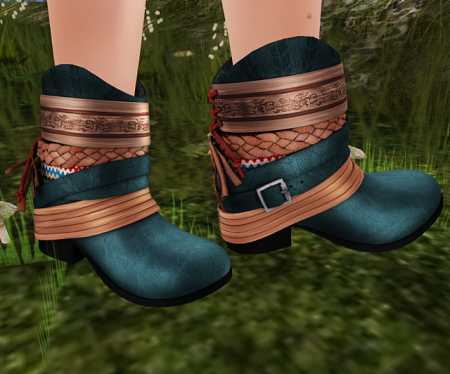 Together, these make a full outfit for under L$400, a great price!
Ai's ensemble:
Outfit: .:Ducknipple:. Mesh – Piperness Dress – L195
Shoes: .:Ducknipple:. Mesh – Thena Boots – L195
Hair: Alice Project
Eyes: .::PeppermintBlue::.
Skin: Leafy
Poses: Starry Heaven