Browsing articles by " Ai"
Thanks to Emi for the beautiful picture! Her post is currently up in her blog.
I'm still having some issues with pictures in SL. While I'm considering trying a different viewer, I'm trying to stick to mostly simple pictures. Sorry about that!
Today, I'm in [UnderDogs] mesh Claire dress, which was just released recently. This is one of sixteen colours, High Class. I love the texture of all of the dresses, but the black lacing over the grey of this one really won me over.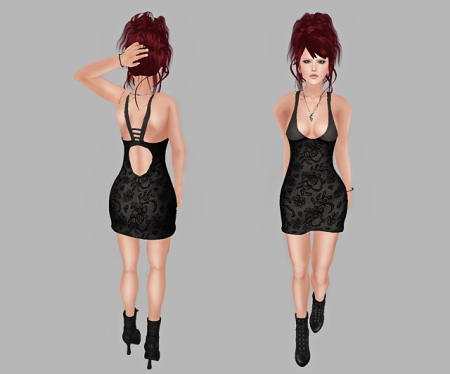 The back of this dress is cut out, and has a really cute design for the straps. It could be worn several ways, more casually or classier, depending on the accessories and other layers you pair with it.
You can pick up one colour of Claire for L175, or the whole fatpack for quite a discount of L1000. It's a really cute dress, so consider picking one (or all of them) up!
Dress: [UnderDogs] – Claire Dress – L175
Shoes: *G Field*
Necklace: ::GABRIEL::
Bracelet: DIRTYLAND
Hair: W&Y
Eyes: .::PeppermintBlue::.
Skin: Leafy
Poses: Starry Heaven
I have a lot to do today, but I also wanted to put out a blog post, so here I am!
I really love this Rolando Shirt by [UnderDogs]. A big problem I've had with men's clothing is that I can't find things that really fit the type of style I like, but this shirt does it. It's a fitted button down, not quite dressy and a little more than casual, so it can go either way in an outfit, depending on what you pair it with. It comes in multiple colours, but I can never resist black! Rolando Shirts are L150 a piece, or L400 for the entire fatpack.
I paired the shirt with [UnderDog]'s Walton Trousers, which I think gave it a dressier feel. I love that these are simple enough to go with anything, just to add that little bit of class that may be needed to your outfit. Each colour is L150, or again, L400 for the fatpack.
Tatsurou could sure use a big boost of class. I hope this outfit helps!
Top: [UnderDogs] – Rolando Shirt – L150
Pants: [UnderDogs] – Walton Trousers – L150
Shoes: ::GABRIEL::
Necklace: .:Troubled Rebel:.
Sunglasses: Kalnins
Hair: Sadistic Hacker
Eyes: MADesigns Eyes
Skin: Heaven's Gate Neo
Poses: Starry Heaven
Despite having some problems with SL lately, there's one thing to bring me back no matter what..
The Arcade is back again, and as usual, I'm going overboard with the gachas. I'll be back to the blog my regularly scheduled posts soon, as my internet is a bit better now. For now, everyone have fun at the event!
With that in mind, here's my trading list: right here!
Shoot me an IM if I'm online (or a notecard if I'm not) if you see something you'd like to trade!
Dress: erratic
Shoes and necklace: [BedlaM]
Tights: L&B
Bracelet: Amorous
Hair: Truth
Eyes: .::PeppermintBlue::.
Skin: Leafy
Poses: Starry Heaven
Props: Standby Inc
I've been a little lazy today, so I wanted to wear something that looked super comfortable. I couldn't even be bothered to put on shoes!
The Chell Dress by [UnderDogs] is the perfectly comfortable, simple summer dress that I was looking for. My favourite thing about this dress is how soft and flowy it looks, especially with the more fitted halter top.
I also love the back of the skirt. It's slightly longer than it is in the front, giving it an interesting asymetrical angle (not to mention the ability to pick things up without necessarily flashing your panties!). You can pick up one of the lovely colours of Chell for L200, or the whole pack for a great discount of L600. All of the colours are definitely worth it!
Dress: [UnderDogs] – Chell Dress – L200
Shoes: [Gos]
Jewelry: Blah.
Hair: Truth
Eyes: .::PeppermintBlue::.
Skin: Leafy
Poses: Starry Heaven