Browsing articles by " Ai"
My favourite part of the She & Him event is definitely the "him"! I have a bit of a hard time finding men's stuff that I really like, since most of it isn't my style, so having an event where so many great designers get together and offer men's items as well is just great.
Today Tatsurou is wearing a top from She & Him by [SAKIDE]. The design of this one is so fun, with the split of the two colours down the middle. The detail on the fabric texture is really nice, too. This shirt comes with cuffs you can add separately (or not at all, I suppose) in multiple sizes, and I chose cuffs one size up from the one he was wearing.
There are other colours available in this Duo shirt. They're so fun, I'd recommend picking all of them up!
My pose is from SAAL, and is one of ten available for men at the event. You can never have too many male poses, so be sure to pick those up if you can as well.
Top: [SAKIDE] (for She & Him)
Pants: meshTheory
Shoes: Energie
Hair: Sadistic Hacker
Eyes: MADesigns Eyes
Skin: Heaven's Gate Neo
Poses: SAAL (for She & Him)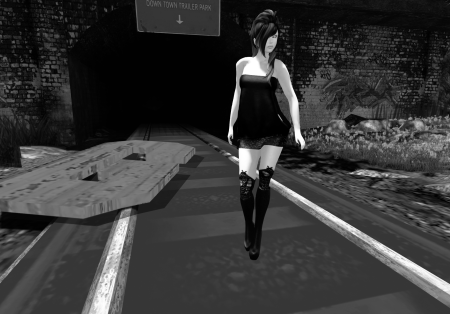 I'm here today with a couple of items from this month's round of She & Him. My dress is from *HolliPocket*, and is available currently at the event. This cute little mini dress is pretty daring, with a slit up either side from nearly the top to bottom. I love the way it drapes, from every side, front, and back as well. The texture of it is lovely as well; the leather of the one I'm wearing looks very realistic, like you could reach out and touch it. Even though this dress is relatively simple, the elements of it make it a very interesting piece that I really like!
My pose is from the Keira set by Purple Poses, and is also available at this round of She & Him. This is a cute pose set and I wish I could have used more of them, but unfortunately, running shadows is pretty hard on all of the computers in the house.
Be sure to check out the current round before it's gone! A new round of She & Him starts on the 5th of every month.
Dress: *HolliPocket* (for She & Him)
Shoes: Athor
Stockings: American Bazaar
Hair: ploom
Hands: SLink
Fingernails: Starry Heaven
Eyes: .::PeppermintBlue::.
Skin: Pink Fuel
Poses: Purple Poses (for She & Him)
Whew! With my internet bugging out again, I felt like it took me forever to be able to put this post together. In any case, I'm back again with another totally cute dress.
Eve by Dead Dollz is part of the Room 69 July round, so of course, it will be available for the low price of 69L! Eve is such a cute, functional little dress. I really love the blocks of colour, and slightly puffy sleeves that give this dress such life. 69L is a great price for this mesh dress, so be sure to pick it up!
I have a lot of things to catch up on, so my apologies for a short blog post. Hopefully there will be lengthier ones in the near future.
Dress: .::Dead Dollz::. (for the Room 69 July round)
Shoes: Latreia
Hair: W&Y
Hands: SLink
Fingernails: Starry Heaven
Eyes: .::PeppermintBlue::.
Skin: Pink Fuel
Poses: Starry Heaven
We're gearing up around here for the She & Him event, which opens soon, on July 5th! I'm always excited for an event that caters to both female and male fashion, but this one, I'm really looking forward to. This event features some really amazing designers, and I'm dying to see what great things they have out for sale!
I had never been to Ariskea, but after seeing this Futurist mesh dress, I can't wait to more or less buy out their entire inventory, haha. I almost don't know where to start with my praise for this dress! The lovely texture, the sharp design, the studs on the front, the cutout in the back? Ah, I don't know! I love every little detail on this dress, down to the realistic folds in the skirt.
Ariskea will be at She & Him with this dress, so if you're in the market for something fun and versatile, you should definitely check this dress out!
Dress: ARISKEA (for the She & Him event)
Shoes: .:Bitch Tail:.
Piercing: Blah.
Bracelet: RONSEM
Hair: TRUTH
Hands: SLink
Fingernails: Starry Heaven
Makeup: Glamorize
Eyes: .::PeppermintBlue::.
Skin: Pink Fuel
Poses: Starry Heaven